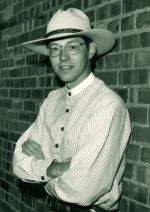 ABOUT JIM SCHULZ
Jim Schulz is a fourth generation Montanan. He grew up in Drummond, MT, a small cowtown that billed itself as "the bullshipping capital of the world" His roots go deep into the region. It is this solid connection to a sense of place that vividly permeates his music. He sings about what he knows, a land where prairie meets the mountains and mountains meet the sky. Schulz paints unforgettable sound pictures of "the West".
Schulz makes his living as a public school teacher where he currently instructs seventh grade science and history at Helena Middle School in Helena, Montana.
"Sing Out" magazine states "Schulz is a very literary writer... and a fine instrumentalist" The"Oakland Tribune" said " Schulz is a treasure trove of songs and their histories, convincing the listener of the western life." The "Lively Times" has this to say about Jim's album Where the Redwinged Blackbirds Sing, "The powerful evocative lyrics set the stage, then lead the listener into another time. The sound is natural, emotional, never harsh and, by the way, flawless."
Where the Red-winged Blackbirds Sing
Mountain Standard Time/Lonesome Indian
'Til Sunrise Takes Me Home
Greenlight on the High Timber
The Highline Road
This House of Sky
The Dark Wind
Beyond the Waterline
Cottonwood Country
Where the Red-winged Blackbirds Sing
Let the plaintive sound of a steam train's whistle, the moan of the lonesome prairie wind, red-winged black birds reverie and the cottonwood country's courting song take you on a musical journey across the northern plains. Where the Red-winged Blackbirds Sing is an all acoustic album of original songs by singer/songwriter, Jim Schulz. "
His music encompasses the sights and sounds, stories and spirit of a land where prairie meets mountains and mountains meet sky. Fiddle, guitar, banjo, hammer dulcimer, musical saw and Native American courting flute are all featured in this celebration of "new western folk music.