ABOUT WALLY McRAE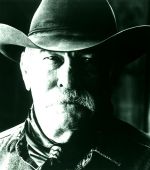 Wally McRae is a Cowboy and a Poet. His poem "Reincarnation" has entered the oral tradition of cowboy poetry as a classic recitation and he's presented his poems to rave reviews at Cowboy Poetry Gatherings and Folklife Festivals nationwide. He has also received the Governor's Award for the Arts in Montana, received the National Endowment for the Arts' National Heritage Award and was recently nominated by President Clinton to serve on the National Council of the Arts.
McRae has four published collections of poetry, his latest entitled Cowboy Curmudgeon, and has an hour-long video, shot on his home ranch reciting 32 poems, entitled Wally McRae Live (More or Less).
"Cowboy Magazine" writes "Wally brings humor and insight to anyone who ever... sat on a horse (or wanted to)." and "Western Horseman" says, "His poetry is something like the Montana landscape - the years and wind take away anything that isn't solid as bedrock. McRae not only knows how to make you listen, he has something to say that's worth listening to."
Wally McRae is a third-generation Montana rancher. He runs the Rocker Six Cattle Co. ranch on Rosebud Creek south of Forsyth and describes himself first and foremost as "a rancher. A livestock rancher. That's what I do."
"I suppose a cowboy poet would be second," he conceded in an interview last year. "But it would be a poor second." Most folks would disagree with that statement. Wally McRae is regarded as among the nation's foremost cowboy poets.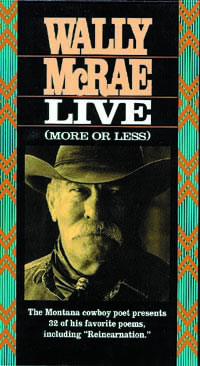 -->>(60 Min. VHS Video)<<--
Mix equal portions of Montana cowboy and modern society, add a dash of humor, heap on the social commentary -- the result is the internationally renowned cowboy and poet, Wally McRae. In this hour-long video, Wally presents a collection of 32 of his favorite poems form the land that inspires much of his work, the beautiful Rocker Six family ranch in Southwestern Montana. You'll enjoy Wally's hallmark poem "Reincarnation" which has entered the oral tradition of cowboy poetry as a classic recitation. Wally McRae Live will warm your heart and split your sides as you enjoy his poetry again and again!
Rain
Hired Hand
Broke, Afoot and Old
Degrees of Water
Double Shot
The Coyote
Howdy, Mister Hunter
The Cowboy Code
Montana, Land of ...
Shopping
Gooseberries
Not So Easy Rider
Albert and the Broken Leg
Reincarnation
Commuted Sentence
Forking the Inevitable
Hat Etiquette
Pax Vobiscum
Back as Cold
Old Speed and the Two Milk Cows
National Park
The Mail
Stampede
Uncle George
Call Anytime
Urban Cowboy
Rachael
Catastrophe
Ol' Proc
Tolerance
Touchy Questions
About Growing Grass