Cristy's Charlie Russell Book is Ready for Shipment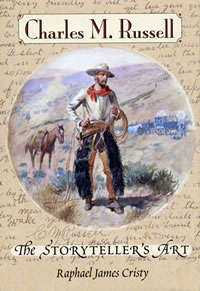 Award-winning historian, Raphael Cristy, has released his new book, Charles M. Russell, The Storyteller's Art (University of New Mexico Press). Cristy's book provides special insights about the American West through the storytelling and writings of Montana 's famous painter and sculptor. In addition to producing this book, Cristy has performed his one-man stage show of Russell's stories in the United States , Canada and Australia.
According to Byron Price, Director of the C. M. Russell Center for Art of the American West at the University of Oklahoma , this book is a "welcome departure from the usual biographies and coffee table volumes on Russell and his art. … [Cristy] deals with an important, yet relatively unexplored aspect of the career of on of the most influential interpreters of the American West."
This well-designed, 376-page this book features 31 color images of Russell paintings (some published for the first time) and 111 halftones and drawings. Many of the original artworks are displayed in major museums throughout the American West, including the C. M. Russell Museum (Great Falls, MT), the Montana Historical Society (Helena, MT), the Amon Carter Museum (Ft. Worth, TX), the Sid Richardson Museum (Ft. Worth, TX), The Buffalo Bill Historical Society (Cody, WY), the Gilcrease Museum (Tulsa, OK) , The Glenbow Museum (Calgary, AB) , the Colorado Springs Fine Arts Center (Colorado), and the Kalamazoo Institute for the Arts (Michigan).
Cristy uses his skills as a historian to explore the depth of dozens of amusing tales that were first told aloud and then written down by Charlie Russell (1864-1926). In 1993, the National Cowboy Hall of Fame awarded Cristy the coveted Western Heritage Award for his essay on Russell's stories, "Charlie's Hidden Agenda," first published in Montana The Magazine of Western History in 1992. Since 1984, Cristy has performed tales told by Charles M. Russell on stages in thirty states, three Canadian provinces and two Australian cities. Cristy developed the book while earning an MA degree in History at the University of Montana and a Doctoral degree at the University of New Mexico in American History.
To order, send $20 per book (autographed by the author) plus $10 (each) for Priority Mail shipment, personal check or money order to:
Charles M. Russell, The Storyteller's Art
Raphael Cristy
P.O. Box 20148
Albuquerque, NM 87154

Book Review Highlights
by Raphael James Cristy
University of New Mexico Press
hardback, 347 pages, 32 color illustrations and 96 half-tones. $45, retail. Contact: rjcristy@comcast.net or Website: http://www.charlierussell.com/raphael
or P.O. Box 20148, Albuquerque, NM 87154, 505-243-6779
"It is Russell's written work that Raphael Cristy investigates in his substantive and imminently readable study. … Cristy offers the reader (and student) a wonderfully engaging volume that enlightens and entertains. … a combination of academic rigor and folksiness that suits his subject.
- Anne Morand, C. M. Russell Museum, Montana The Magazine of Western History, Winter, 2005 - 2006
"In this well-illustrated biography, Cristy focuses on Russell's witty writings on the West as it really was."
- Stanford Magazine, March/April 2005
"Cristy gives Russell fans and critics a new perspective on the artist"
- Salt Lake City Tribune, March 20, 2005
"Insightful and pleasurable, this a book suited for the library and the coffee table. Summing up: Highly recommended. All collections, all levels."
- P.J. Ferlazzo, CHOICE, current reviews for academic libraries, American Library Association
"[A]fter reading Cristy's book … I now appreciate Russell's literary legacy and also him as a person. [This] gives us a much fuller idea of Russell the artist and Russell the human being."
- Devon Jackson, Santa Fe New Mexican, daily newspaper, March 6, 2005
"Raphael Cristy and Charlie Russell remind us that a sense of humor and fondness for the past let us live more humanely through the art of the tale."
- Lewis Toland, Southwest Book Views, quarterly magazine, Santa Fe, July 2005
"Well known for his art, Charles Russell was also an accomplished author. Cristy shows how Russell amused his peers with stories that delivered sharp observations of Euro-American suppression of Indians and humorous treatment of wilderness and range issues."
- Paddy MacDonald, Montanan, University of Montana – Missoula, Spring, 2005
"This book sheds an entirely new light on Russell as a writer … It is a beautifully crafted book."
- Jim Crutchfield, Roundup Magazine, Western Writers of America, June 2005
"This well-researched, 376-page book shares selected samples of Charlie Russell's droll humor and delightful narratives, including good-natured roasts of his friends, humorously exaggerated tall tales or lie stories, sharp social satire and serious yarns about Indians."
- Ellsworth T. Kincaid, Cowboy Chronicle, S.A.S.S., Inc. April 2005
"Lavishly illustrated with Russell's work …"
- Great Falls Tribune, daily newspaper. Montana, Nov. 7, 2004
"Overall the book is very useful for scholars interested in western frontier culture and can help provide a broad perspective of the unexplored dimensions of Russell's perspective on Indians and his intellectual life."
- Mantri Sivananda, Memphis TN, The Western Historical Quarterly, Winter, 2005, published for the Western History Association
"Cristy treats his subject fairly and exhaustively. His chapters on Russell's niche in American history and his review of critical observations of Russell's writing could well be used as a model for fine scholarship. … He has written a useful addition to understanding American literature and perhaps, more importantly, American life."
- Cecil Lee, Crosstimbers, A Multicultural, Interdisciplinary Journal, Spring/Summer, 2005, University of Science and Arts of Oklahoma, Chickasha, OK
In this intriguing work, Western scholar and first-rate storyteller Raphael Cristy (makes) … a convincing case … for the artist as a folklorist, documenting the Native American and cattleman cultures (Russell), like many others, feared would disappear forever. … The consideration of Russell as first and foremost a storyteller further establishes him as an important middleman between the different worlds of Native Americans and whites of the northern plains, myth and history, modernity and tradition." Scott Meredith, Journal of the West, October, 2005 "Although Charlie Russell's writing and letters have been treated in previous studies, this book is so comprehensive that it will doubtless become the starting point for any future research in this area." Nathan Bender, Journal of American Folklore, 2007 "Raphael Cristy and Charlie Russell remind us that a sense of humor and fondness for the past let us live more humanely through the art of the tale."
-Lewis Toland, Southwest Book Views, quarterly magazine, Santa Fe, July 2005
Charlie Russell's Yarns

This internationally acclaimed show explores the life and works of Charles M. Russell (1864-1926) through his own words. America's most popular painter/sculptor of the 'Old West' also told exciting and hilarious yarns. While telling amusing stories, Russell was sharing rural wisdom and social commentary that still ring true today. Raphael Cristy's performances present Russell's storytelling along with some of his best paintings and sculptures. Part auto-biography, part virtuoso storytelling, Charlie Russell's Yarns is a hearty feast for the soul.

Each performance of Charlie Russell's Yarns is comprised of 95% direct quotations from hundreds of sources, including Russell's own short stories and illustrated letters. As he performs Russell's words, Cristy projects hundreds of color slides as stage backdrops. Cristy selected these images from the approximately 4,500 known works of art that Russell produced throughout his life. Performance lengths, defined in advance with each sponsor, can range from 45 minutes to two hours.
Shy among most strangers, Charlie Russell was a brilliant story teller when spinning yarns among friends who shared his preference for the sparcely settled 'Old West.' Of Russell's storytelling, his friend, humorist/actor Will Rogers, has written "If he had devoted the same time to writing that he had to the [paint] brush, he would have left a tremendous impression in that line. .... He was a great storyteller. Bret Harte, Mark Twain or any of our old traditions couldn't paint a word picture with the originality that Charlie could. . . .What a public entertainer he would have made. . . . I never met a person yet that ever heard him that didn't say he was the greatest storyteller they ever listened to."
| | |
| --- | --- |
| | C. M. Russell lived the open-range life of a rough Montana cowboy for eleven years before gradually gaining international popularity as a self-taught artist. He died a wealthy man in 1926 at the age of 62. By then, his wife, Nancy, was getting $10,000 for larger paintings that he produced for such celebrities as Douglas Fairbanks, Will Rogers, and Edward Prince of Wales. Today, Russell's better oil paintings can command prices in excess of one million dollars. |
What Folks Are Saying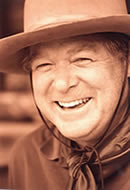 Los Angeles Times
Los Angeles, CA
Cristy "vividly brings to life the people and scenes
of Montana when Helena was simply Last Chance Gulch."
Rocky Mountain News
Denver, CO
"It's an amazing performance . . .
Cristy's timing is stage perfect, the acting professional."


Portland Oregonian
Portland, OR
"It is these stories - hilarious, droll, prescient - that Cristy retells in his delightful way.
He deserves a wider audience."

Daily Interlake
Kalispell, MT
"Hal Holbrook was Mark Twain, James Whitmore was Will Rogers.
And Raphael Cristy is Charlie Russell."

Rocket-Courier
Wyalusa, PA
Cristy "combined extraordinary research and acting
to create a dynamic character or - could it be?
- he was actually Charlie Russell channeled through the body of Cristy,
come back to tell us about our real roots?"

Fort Benton River Press
Fort Benton, MT
"Cristy is well known in our area for his accurate depiction of Charlie Russell
and his amusing anecdotes."

Lindsay Gazette
Lindsay, CA
"If there is anything better than seeing Cristy once, it is seeing him twice."

Missoulian
Missoula, MT
"Cristy's show brings Charlie Russell to life ... don't miss it.
Charlie himself would have enjoyed it."

Montana Historical Society
Helena, MT
"Mr. Cristy's research is solid ...
his presence and presentation hold an audience spellbound."

C. M. Russell Museum
Great Falls, MT
"You totally captivated the audience and
many people told me it is the best seminar we have ever presented."

Will Rogers Home State Park
Los Angeles, CA
"The audience exploded into applause ...
We are still talking about the treat you gave us."

The Museum of the Beartooths
Columbus, MT
"We have a $1,200 profit to show for it!"
National Dude Ranchers"a fascinating and most unusual performance."

Colorado State University
Fort Collins, CO
"Your presentation was the perfect conclusion to our 3 day festival. ...
our audience was then exposed to the dynamism and enthusiasm
which made up the complex and fascinating personality of Charlie Russell. ...
The very large crowd was obviously delighted, even enthralled
with your interpretation with such a fascinating individual."
Prof. Harry Rosenburg, American West Program

Northern Appalachian Storytelling Festival
Mansfield, PA
"The audiences loved Raphael, Charlie, and the Committee
for bringing both Raphael and Charlie to northern Pennsylvania.
I would recommend Raphael Cristy to anyone interested
in storytelling, art, history, or darn good theater."
A. Vernon Lapps, Ph.D., Festival Director

Western Michigan University
Kalamazoo, MI
"College students are often difficult to reach,
jaded by contemporary entertainment standards
which reflect an over-accessability and titillating mediocrity;
Mr. Cristy held these students riveted to their seats."
Dr. Raeder Anderson, Humanities Department, "Direct Encounter With the Arts"

Interpretive Naturalists Association
Bozeman, MT
"The reviews were all raves for the grit and gusto that are the roots of Montana."
Raphael Cristy, Ph.D.
Raphael J. Cristy grew up on a horse farm near Hickory Corners, Michigan. After earning his B.A. degree in English Literature at Stanford, Cristy opened "Chimaera Books," selling used books and records in a large Victorian house in Palo Alto, California. Buying inventory from his customers, he acquired books by and about Charlie Russell for the first time. In 1985, Cristy moved to Montana to conduct more in-depth research into Russell's life and works and to perform Charlie Russell's Yarns.

Since his first performances of Charlie Russell's Yarns in 1976, Cristy has found that modern audiences enjoy the same tales that made leather-tough Montana cowboys bust out laughing 100 years ago. Russell still is a popular folk hero in Montana's towns where they welcome Cristy's performances enthusiastically. Beyond Montana, performance highlights include Denver Art Museum, the Museum of Fine Arts Houston, Stark Museum of Art – Orange TX, National Museum of Wildlife Art, Jackson Hole, WY, The Eiteljorg Museum, Indianapolis, Amon Carter Museum, Ft. Worth, Texas Pennsylvania's Northern Appalachian Storytelling Festival, The Cowboy Poetry Gathering in Elko, Nevada, the Palm Springs Desert Arts Museum, The historic KiMo Theater in Albuquerque, New Mexico, the Colorado Springs Fine Arts Museum, Michael Martin Murphy's WESTFEST, and even Michigan's Kalamazoo Institute For the Arts, plus many universities and arts festivals. Both Canada's Fringe Festival in Edmonton, Alberta, and Australia's Festival of Sydney have brought international praise for Cristy's natural storytelling ability.
While performing Charlie Russell's Yarns across the country, Cristy has earned his MA in History at the University of Montana and his Ph.D. in American History at the University of New Mexico. Along the way he has also received the coveted Wrangler award from the National Cowboy Hall of Fame in Oklahoma. Cristy has taught American History at the University of Montana, the University of New Mexico and the College of Santa Fe. He has also participated in seminars and performances sponsored by the New Mexico Endowment for the Humanities.
For Booking info:
CALL: (505) 918-5772
EMAIL: rjcristy@comcast.net